BEMIS 120: CARRARA & MATTA IS GOING IN STYLE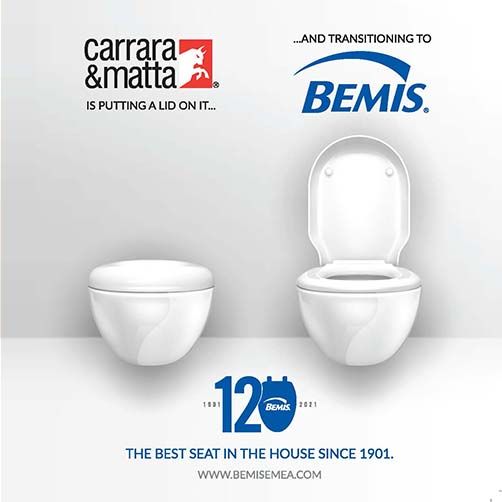 The manufacturing giant Bemis is celebrating 120 years of excellence this year. What better way to mark all those years of industry expertise, than with expansion? The popular Carrara & Matta brand is transitioning to Bemis!
With this move, Bemis becomes a unified brand with a complete assortment under one roof, for all round simplicity, more innovation and a larger choice for your business and needs. Because simple is the best way to go.
Bemis remains family owned to this day, with a heritage dating back 4generations, all the way to 1901. From woodworking and furniture making, the Bemis Manufacturing Company has grown into an international enterprise with manufacturing and warehousing facilities worldwide.
The well-known Carrara & Matta brand has continued its tradition of sophisticated design and exceptional quality after being acquired by Bemis in2000. Now it merges with the Bemis range for added simplicity, accessibility, and an even better customer experience.
One could say, Carrara & Matta is going in style. A celebratory year filled with promotions and giveaways awaits. Don't forget to visit the Bemis social channels or website to find out more and take part in the celebration!
WHY BEMIS?

EXPERTISE = 120 years of tradition and excellence
SIMPLICITY = simple solutions that work for both professional and home installers
RELIABILITY = quality and credibility you can see and feel
INNOVATION = solutions that exceed expectations