VISIT US AT THE IDÉOBAIN 2022 BATHROOM EXHIBITION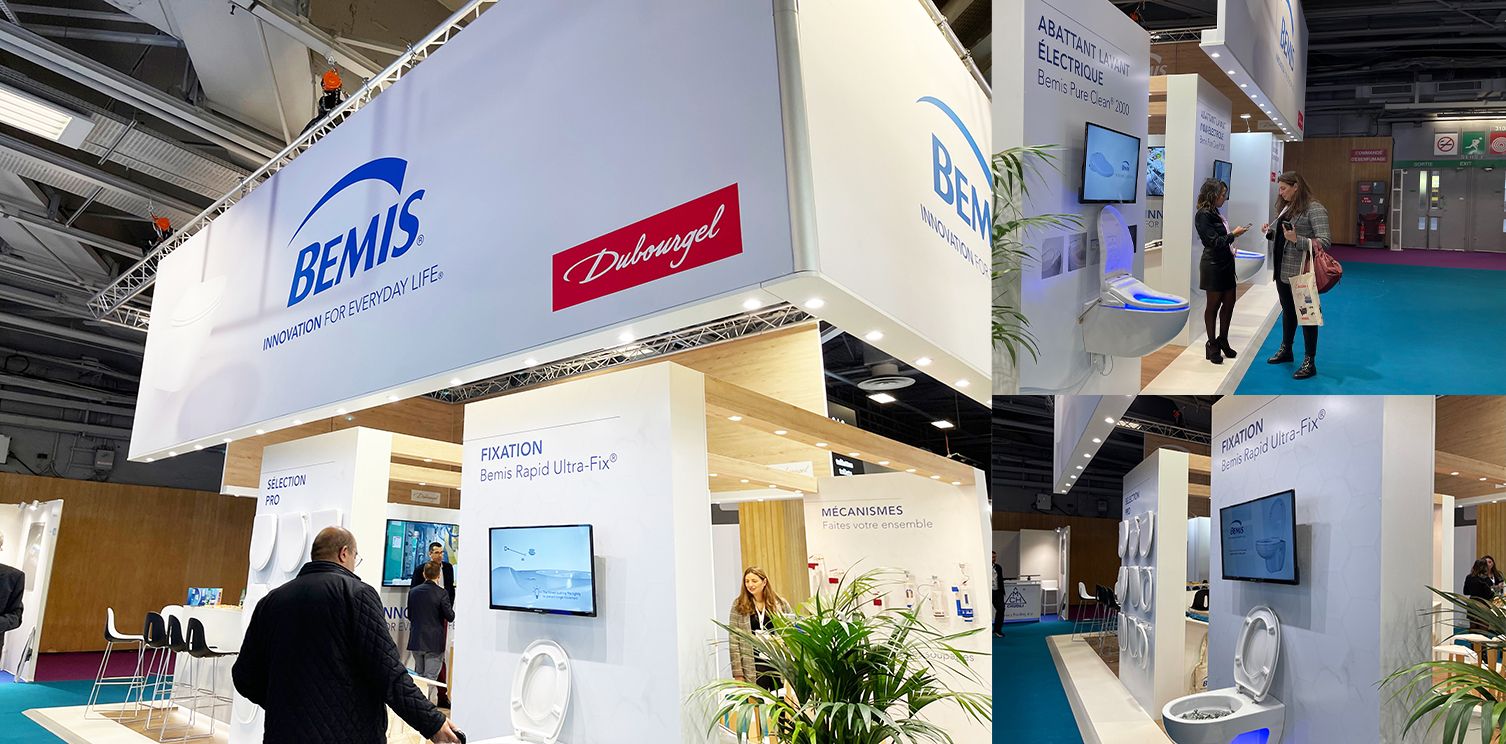 The IDÉOBAIN exhibition will take place at the Parc Expo of Paris Porte de Versailles between the 3rd and 6th of October, and Dubourgel By Bemis will be present! Meet us at stand E28 Pavillon 3.
Parc Expo, Paris Porte de Versailles
The Idéobain exhibition?
The IDEOBAIN exhibition is the must-attend innovation event of the sanitary sector. It takes place every two years, but due to the health crisis, the fair could not take place in 2021. The actors and interested parties in this field are therefore looking forward to meeting again. It is the ideal place to find the latest news from professionals, attend product demonstrations and create new partnerships. The last session had gathered more than 18,000 visitors, 21% of which came from abroad and 36% were from retailers and distributors.
We bring you innovation!
Dubourgel, in transition to Bemis, is presenting many new innovations during the show!
Learn all about our latest product innovations at our stand E28.

Introducing Bemis Rapid Ultra-Fix®
You may have heard of our Bemis Ultra-Fix® toilet seat fixation, but now there's an even faster version to install your seat, Bemis Rapid Ultra-Fix®. This next generation innovative fixing system combines the strenght of our standard Bemis Ultra-Fix® toilet seat fixation with the speedy installation of a rapid fix nut. The Bemis Rapid Ultra-Fix® fixation installs your seat with a speed nut fixation while ensuring that it will not wobble.

Easy installation in 3 steps:
Install the toilet seat and its fixings.
Push up and finger tighten the Rapid Ultra-Fix® nut.
Tighten the nut until it breaks (the nut will break when tightened optimally).
Your toilet seat is installed and will not move for over 30,000 cycles.
Advantages:
Corrosion resistant
Fast installation: average installation time 8 minutes
Nut is easily installed
No glue or adhesive residue on the ceramic
Withstands over 30,000 cycles of lateral movement
The only system on the market to withstand high lateral pull tests
Bemis Orly Eco toilet seat made from recycled plastic
orly eco material chartAt Bemis we are increasingly concerned about our impact and the needs of our customers, therefore we are offering our first 95% post-consumer recycled plastic seat.
Bemis is taking an ecological approach and this product reflects this value.
The orly Eco is manufactured in partnership with a company that is an expert in recycled plastics. The recycled plastics used for the Orly Eco comes from household waste collections. 95% of its composition is made from recycled plastic from waste packaging material that is recovered, crushed and re-injected into our moulds to create the Orly Eco. Take part in the ecological commitment in your washrooms!
Why Choose a Recycled Product?
Every year, the demand for plastic is increasing. It pollutes the oceans and deteriorates the environment. By using products made of recycled material, you participate in the reduction of waste and CO2 emissions. Today Bemis takes part in this movement and launching the Orly Eco, a toilet seat in accordance with these values.
Introducing the new shower toilet seat range.
Bemis introduces a new range of shower toilet seats, the Bemis Pure Clean® range.
The non-electrical Bemis Pure Clean® toilet seat is the first introduction of this range.